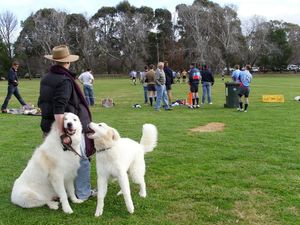 My first introduction to Pyrenean Mountain Dogs was in 1993 when I was researching breeds and looking for a dog to call my own. It was then that I saw a picture of a magnificent white dog in a magazine. In 1994, after talking to a number of breeders and learning what owning this wonderful breed involved, 'Halley' came into my life and began my lifelong love affair with the breed.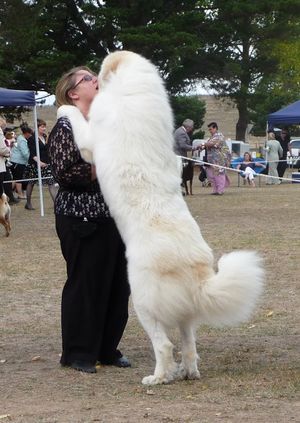 Over the years I have participated in a wide range of activities with my dogs.  These include obedience, agility (with my Dalmatian 'Cookie'), lure coursing (with my Saluki 'Sookie'), and conformation showing.   I was an obedience and agility instructor at the ACT Companion Dog Club in Canberra for many years and until 2016 taught dog obedience classes for the Yass Veterinary Hospital. I have also spent time in the US studying wolf behaviour at Wolf Park with ethologist Dr Eric Klinghammer and worked for a number of years as a professional groomer.  Natural rearing and nutrition in also a passion of mine and as a result I spent many years researching, learning  and teaching about these aspects of feeding and raising dogs.

I have been involved with a range of clubs in an official capacity, serving in the past on the committee of the ACT Companion Dog Club and NSW Lure Coursing Association, and as Secretary of the Dalmatian Club of the ACT. In 2000 I was honoured to be a speaker at the Pyrenean World Conference in Melbourne, Australia.  I am a member of the Pyrenean Mountain Dog Club of Victoria (which is the primary club for our breed in Australia) and the Great Pyrenees Club of America. Currently I serve on the Dogs NSW Judicial Panel, the Livestock Guardian Dog Committee for the Great Pyrenees Club of America, am President of the Hound Club of the ACT, and on the committee of Afghan Hound and Saluki Rescue and Rehome Australia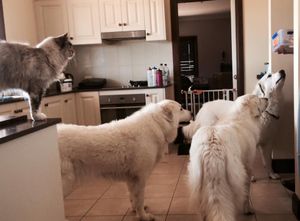 Over the years I have also assisted with rescue for a range of breeds and cross breeds, taking a number of foster dogs into my home. One of those dogs, a Pyrenean we called 'Liza Jane', stayed with us for the rest of her life.

The motto for my kennel is "putting the Breed before breeding". By this I mean that there is no 'second best' when it comes to supporting the breed I love, respecting its history, and ensuring its continuance into the future as a true 'dog of the mountains', sound in both body and mind. This has meant that I have occasionally needed to make the hard decision not to breed as I have put the needs of the breed before our own ambitions. I stand by my determination to promote quality rather than quantity in my breeding goals. I am a registered breeder with Dogs NSW (Dogs NSW Member 2100010488. Please contact Dogs NSW on email: info@dogsnsw.org.au to verify my membership).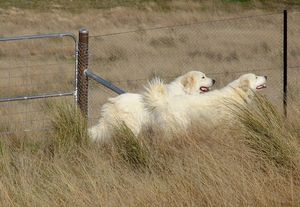 I believe in taking a global outlook when it comes to the breed rather than confining my knowledge  and thoughts to just my own 'backyard'. With this in mind I visited France in 2009 to attend the R.A.C.P. Exposition Nationale d' Elevage in Argeles-Gazost.  In 2012, 2014 and 2016 I also visited the United States of America to attend the Great Pyrenees Club of America National Specialty Show. It is always a wonderful and educational experience to see dogs and meet and talk about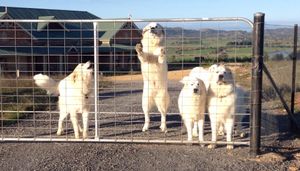 the breed with knowledgeable people from other parts of the world. I also consider it particularly important to see the homeland of the breed to help understand the influences which have shaped it into the breed we know and love, and to help understand what is necessary to maintain the breed as a true 'dog of the mountains' which would be just as at home in the Pyrenees mountains no matter what part of the world it is born in.

Our dogs enjoy living on our property Burrow Downs located between Yass and Gunning in New South Wales in Australia, along with myself and my partner Bruce, our Faverolles and Belgian Bantam poultry, Wiltipoll sheep, our Heavy Horse boarders from Heavy Horse Heaven, and numerous Kangaroos and other wildlife.  Our dogs help to keep our poultry safe while also being our pets and show dogs as well.