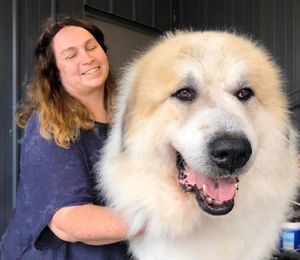 Champion Espinay Azun
"Azure"

Int, Fin, Balt, Lith, Latv, Est Ch Fago de Alba de los Danzantes x  Ch Despreaux Amazing Grace

Pedigree

DOB 8 May 2013

CHIC #115094
Hips 1:3
Elbows 0:0
Patellas Normal (OFA)
Eyes Healthy (ACES eye certificate 12 February 2015)
Degenerative Myelopathy Normal (DNA N/N)
Canine Multifocal Retinopathy (CMR1) Normal (DNA N/N)
Neuronal Degeneration Normal (DNA N/N)


Azure lives in Sydney where he quickly earned his Australian Champion title.
A slow maturing boy, he has won several classes in group,
including Junior in Group at the big Spring Fair show in Sydney
He enjoyed going to puppy classes as a youngster and going swimming with his Leonberger friends.
Azure has grown into a personable and steady boy who is just as comfortable doing 'fox watch'
here on the farm when he comes to visit as he is living in the city.

Azure is co-owned, loved and handled by Sally McDowell of Wylah Kennels.