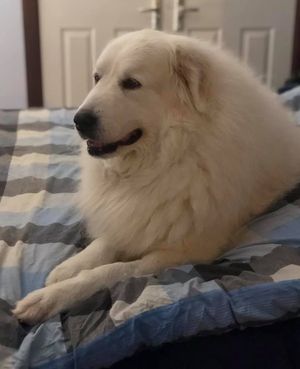 Champion Despreaux Amazing Grace
"Grace"
Despreaux Legend of Roc x Despreaux Ladyhawke

Pedigree

DOB 7 November 2008
Height 71.5cm (28.15 inches)

CHIC # 87355
Hips 3:3
Elbows 0:0
Patellas Normal (OFA)
Eyes Healthy (ACES Eye Certificates 18 May 11, 08 May 14 & 23 Jun 17)
Heart Healthy (Echocardiogram 25 Apr 15 & 08 Jul 17)
Degenerative Myelopathy Normal (DNA N/N)
Canine Multifocal Retinopathy (CMR1) Normal (DNA N/N)
Quiet, patient and tolerant, Grace is an excellent and determined guardian who equally enjoys a snuggle on the bed.
She is our princess who delights us with her quirky ways.
Grace is a multi class in group winner as well as class in show.
She is the mother of our A-litter and grandmother of our B-litter
Grace is co-owned with her breeder, Faye Cartledge of Despreaux Kennels