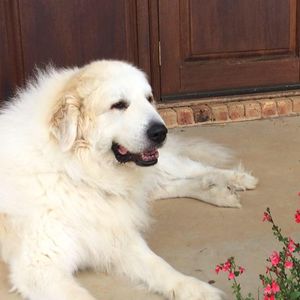 Champion Despreaux Highlander
"Hamish"
15 August 2006 - 19 June 2018
Height 75 cm (29.5 inches)
CHIC # 87356
Hips 5:5
Elbows 0:0
Patellas Normal (OFA)
Eyes Healthy (ACES Eye Certificate 18 May 11)
Degenerative Myelopathy Normal (DNA N/N)
While Hamish was clear of cardiac disease at his examination on 15 Sep 12,
when tested on 08 Nov 14, he was found to have a grade 3 heart murmur on auscultation.
An echocardiogram showed changes indicative of asymptomatic/occult dilated cardiomyopathy (DCM).
An echocardiogram on 05 Nov 16 showed the DCM was stable with no further change.
As far as Hamish was concerned, it was all about him.
He was a personable dog with many friends and fans.
In the show ring Hamish was a consistent Class in Group winner as well as winner of  Runner Up and Best in Group.
He also proved popular with Junior Handlers.
Hamish was an excellent guardian displaying natural talent for livestock protection on our property.
He was a steady leader and an excellent teacher of  young dogs.
With his passing, Hamish has left a large hole in our hearts. 
I am forever grateful to his breeder Faye Cartledge of Despreaux Kennels for allowing him to be a part of our lives.