In April/May 2014 I attended the Great Pyrenees Club of America (GPCA) Specialty Show which was held in Vancouver, WA. The venue for the show was the Red Lion on the Quay which provided great facilities for the event and was in a lovely location on the waters edge. I always enjoy going to these shows in the US where dogs are allowed to sleep in the hotel rooms with their owners and the show is held in the Grand Ballroom. It was a pleasure to see friends from the US and elsewhere and to meet some new ones too.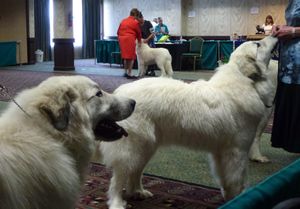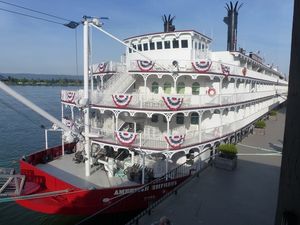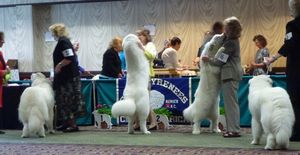 Once again there were plenty of opportunities to spend money on items such as artwork and jewellery with a Pyrenean theme, and naturally I came back with some lovely items. Jewellery and artwork from artists such as
Nancy Wood Taber
and
Carrie Stuart Parks
are always in demand.  There were also some lovely items to be had at the silent auctions held throughout the show and the auction held at the Banquet. At the Banquet acution I managed to aquire a beautiful scarf spun and knitted entirely from Pyrenean fur.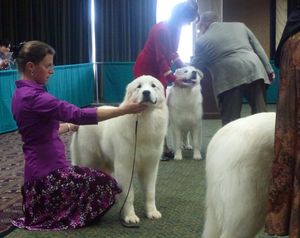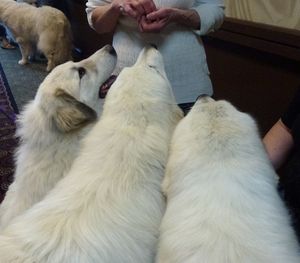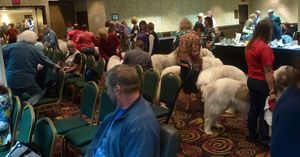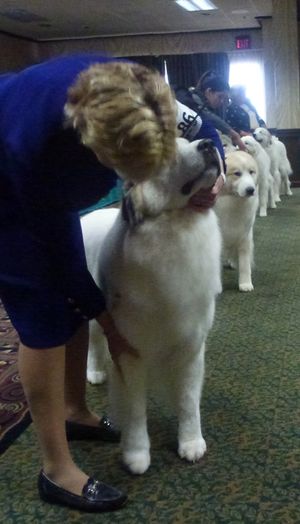 It was lovely to see all the dogs at the show and to talk with their owners and breeders. Issues of health and rescue were also on the agenda with a very interesting seminar on heart conditions given by a cardiologist and a heart clinic held for those interested in having their dogs tested. The rescue parade held on the final day of the show was also popular with rescue dogs and their owners being recognised. Proceeds from many of the events went to both rescue and health research. There was much frivolity at the show too, and everyone had a good laugh at the 'teacup Pyr' that was presented to the judge for judging.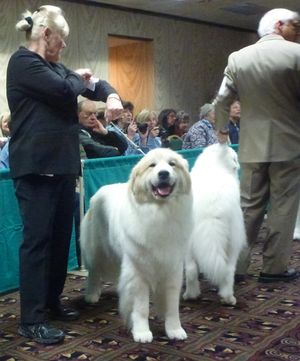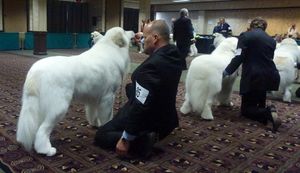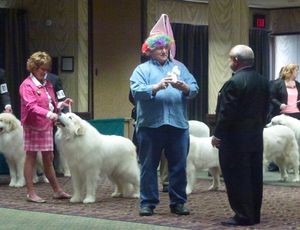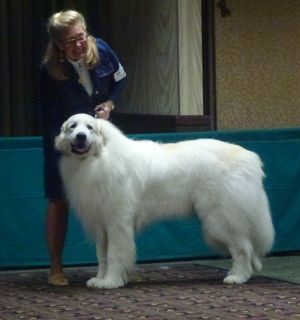 The undisputed star of the show was 'Tia' (Sivercreek T For Two) who at 16 years of age wowed the crowd with her soundness and attitude.  She is definitely one grand lady!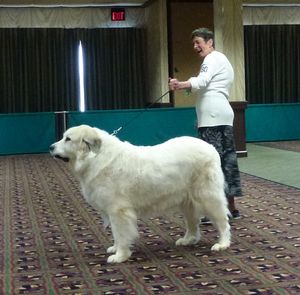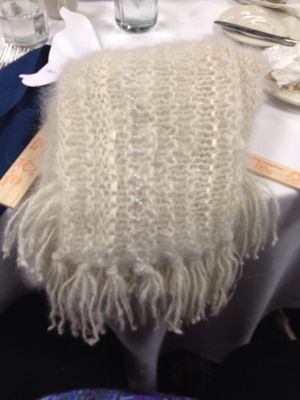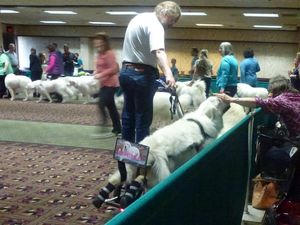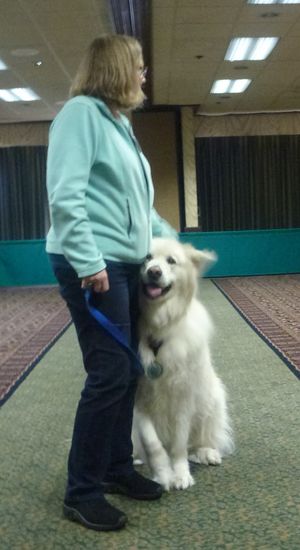 A highlight of the week for me was watching Alain Pecoult from France judge the Regional Specialty Show held on the Sunday. It was a pleasure to watch this specialist of such high regard judge in US and I enjoyed the opportunity to listen and chat with him after the show. A point of interest was that 'Tristin' (Silvercreek's Eau-De-Vie), the winner of the Regional Specialty, is a son of 'Tia'. Best Opposite and Best of Winners was the beautiful young bitch 'Paris' (Shadee Hill Gay Paree) who is sired via frozen semen from the now deceased Signeur du Neouvielle from France.