In April and May 2016 I once again visited the United States to spend time with friends and attend the Great Pyrenees Club of America National Specialty Show.
First stop was Virginia and Wyndamhill Great Pyrenees owned by Janet Ingram and Joan Ziehl.  I had a lovely week visiting with them and their dogs and seeing some of the local area.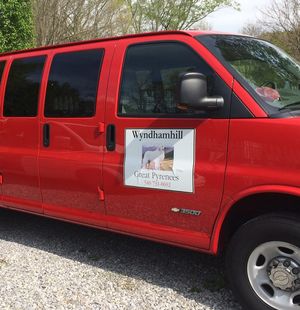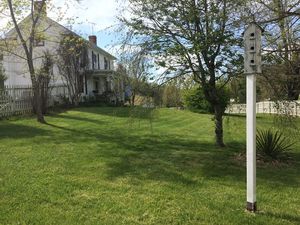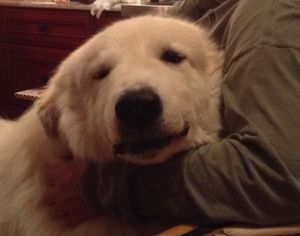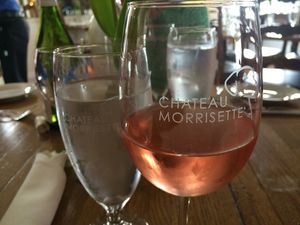 We were then off on a road trip to drive to Matamoras in Pennsylvania for the National.  The National was to be held at the Best Western Inn at Hunts Landing which was the same venue as the 2012 National.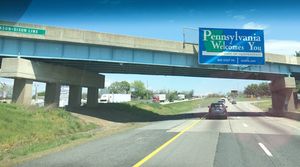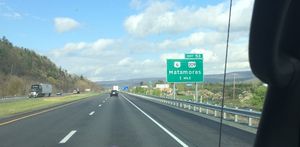 Wednesday night was the Puppy Invitational and Top Twenty.  This is the first year I have made it to the National in time for the Wednesday night festivities, with travel plans delaying my arrival previously.  The evening generally has a theme with participants and attendees having fun dressing in costume.  This year the theme was Woodstock, with lots of peace, love and fun.  And ice cream too!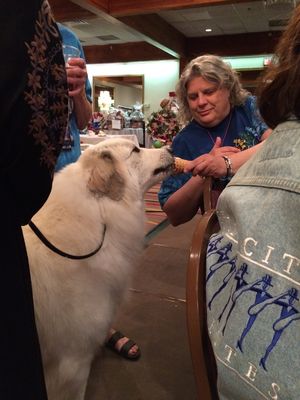 It was great to see friends from around the world at the show, including those from Canada and the UK. It was very emotional watching the veterans in the ring.  I had the pleasure of sharing a room at the hotel with my good friend Dianne Migas of Bluesteel Pyrenees and her 11.5 years young boy Bluesteel Son of a Gun ( 'Sonny'  - below left) who enjoyed his time at the show being loved on by all who met him.  It was also fun watching the puppies with their exuberance.  The brace class was a hoot to watch with puppies bouncing everywhere!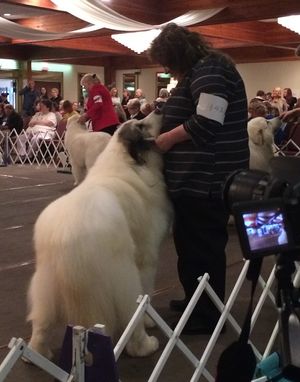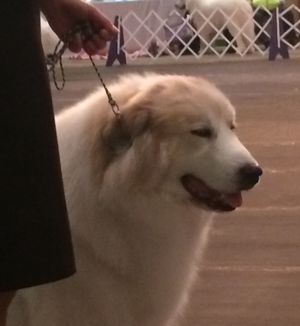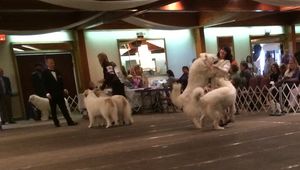 The National was judged by Whitney Coombs who chose GCh Rivergroves Enough Said ('Brooks') owned by Jean Boyd and Marcia Stewart for his Best of Breed. It was lovely to watch all the dogs in the ring as he made his choices.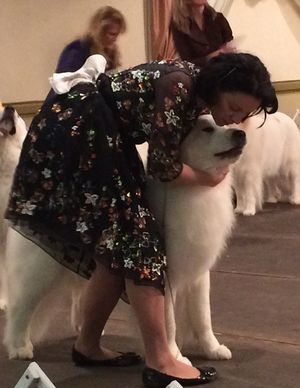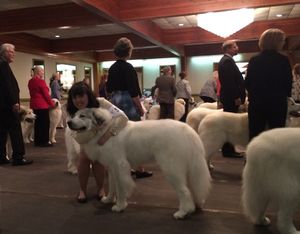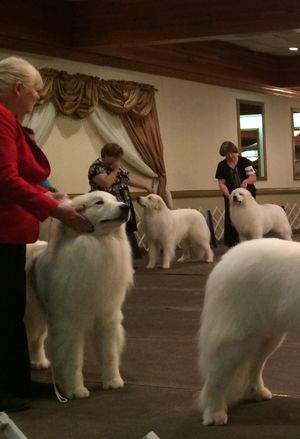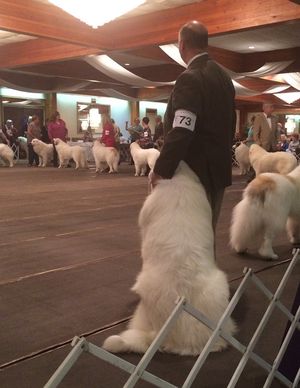 The Regional Specialty show was held on the Sunday after the National with judge Patricia Princehouse choosing the lovely tall bitch Ch Catalan Melange (below left) owned by Nancy and Larry Carr as her Best of Breed.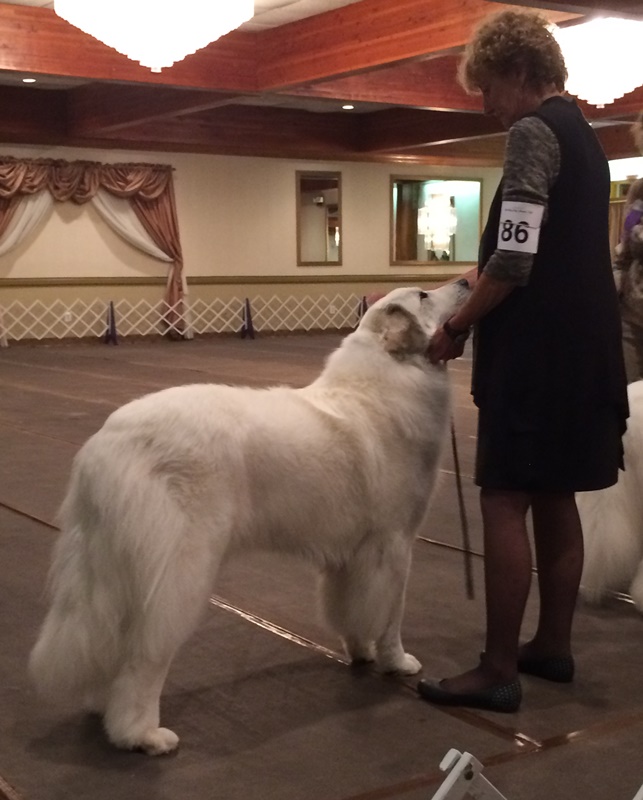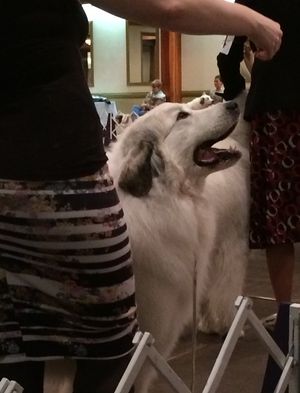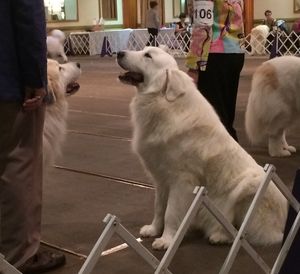 Following the National it was off to New Jersey with my friend Dianne Migas of Bluesteel Pyrenees to spend the week with her and her dogs.  While there it was lovely to see her 11.5 year old girl Bluesteel Annie Get Your Gun ('Annie' - below left), sister to Sonny, who like her brother is still very sound, fit and active.  It was also a pleasure to take a trip to New York (State) and Visit Nicole Sharpe (Pyrtection Pyrenees) at her lovely home (I fell in love with her life sized statue of a dog and pup).  It was a pleasure to meet her imported boys Kathare des Sentiers du Roi and Netan du Mas de Beauviosin who are both from Belgium as well as a lovely older girl who is the daughter of Neou du Mas de Beauviosin. Also on the agenda while in New Jersey was a trip to one of the Cherrybrook stores for dog supplies. As you can never do too much shopping! (I actually needed to buy and extra suitcase to get everything home ....). While the trip home was a long one, it was fun to meet up with a dog from the airports 'PUP' (Pets Unstressing Passengers) program in the airport terminal in LA.